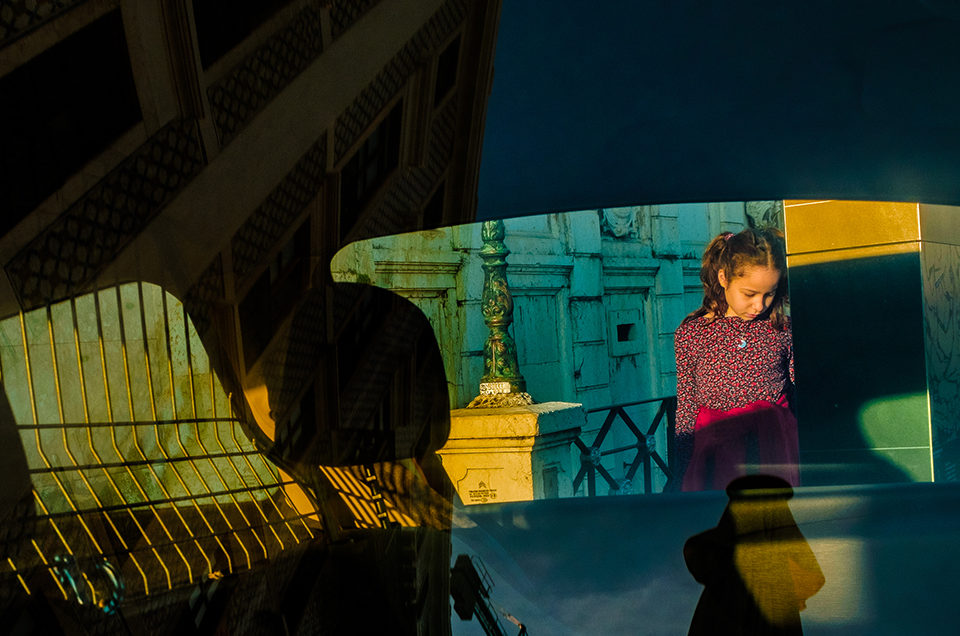 Interview with Rinzing Kelsang
Who?
I'm Rinzing, Hungarian, 48. After studying classical music I was a clarinettist with an Opera orchestra in Romania. From the mid 1990s I've worked as a musician and music specialist with people on the Autism spectrum in Hungary then from 1999 in England.
I'm a monk living in a Buddhist centre in Nottingham, I study and practice Buddhism and teach meditation here.
Bought my first camera about 10 years ago with the sole purpose to document Buddhist events. After a couple of years and lots of crappy photos I decided to hone my skills by doing some street photography. I've been doing some sort of photography in public places since.
At present I offer classical concert photography, hold street photography workshops and work on a couple of personal projects.

Where?
Photographing for a few years on the streets of Nottingham and occasionally in London resulted in my first series 'Being Elsewhere'. At present I have three ongoing projects in Cluj, Romania 'Postcards from Hometown', Budapest, Hungary 'District 8' and Lisbon, Portugal 'Saudade' (all working titles).

When?
Normally I only have a camera on me when I'm specifically working on assignments, when leading a workshop and when working on one of my personal series. Even though I don't walk around with a camera every day as many street photographers would do, I'm on a continuous assignment at my workplace – documenting the various aspects of school life.

What?
Generally, it is mostly about playing with the illusion of various seemingly unrelated elements interplaying in an interesting or emotive way. Sensing a particular connection between some photographs has been the starting point for working on series that feel to me coherent emotionally and visually.
In regards to a couple of my series; in the case of 'Being Elsewhere' I felt that my photographs were resonating with the longing associated with the impossible quest to find or a home anywhere in an ever-changing world.
In certain parts of 'District 8' in Budapest one has the sensation of stepping back several decades in time. Pairing this with the ethnic and social diversity found nowhere else at this extent in Budapest, this part of the city has become the centre of my attention for street photography for the last couple of years.

Why?
I'm motivated by the lucid and joyous feelings of being alert, attuned and connected when photographing spontaneously and I find the process of photographing without plans or preconceptions liberating – similarly to free improvisation on musical instruments.
Photography in public places enables me to empathise deeper; to make momentary and occasionally even lasting connections with folks from all walks of life.
There is something magical and enriching about the process of photographing, selecting and sequencing. The photographs themselves can reveal something personal, previously hidden about oneself. Completing my first series under guidance from two outstanding photographers has given me confidence to approach the creative process of photographing and editing in a spontaneous and intuitive manner. Working on a series has also contributed to bringing some understanding and resolution in regards to some past experience.

©Rinzing Kelsang
http://www.rinzingkelsang.com/
http://www.instagram.com/rinzingkelsang/
---