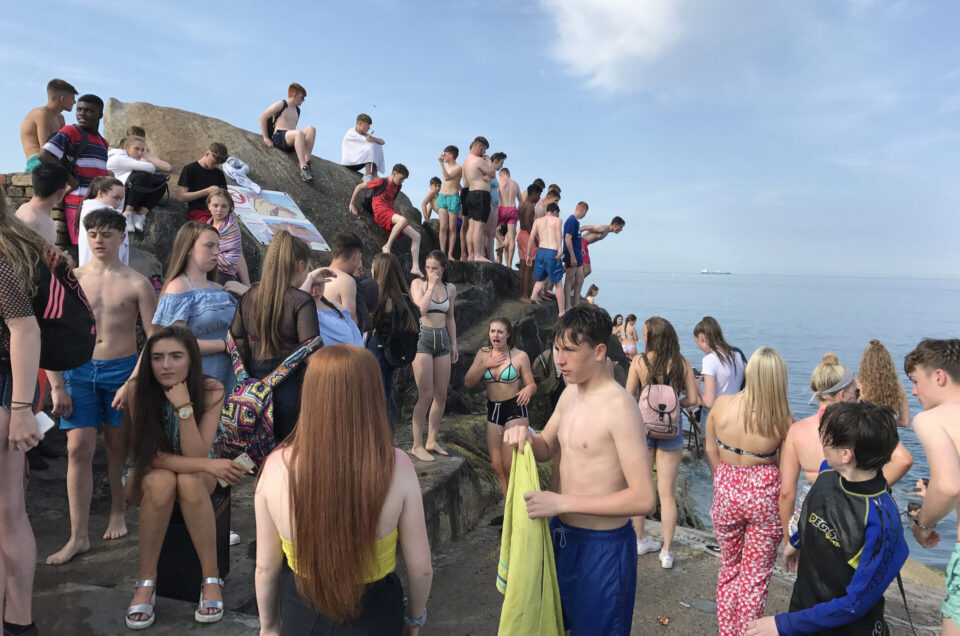 IP Flickr | Featured Image Barry Delaney
2021-01-10 In
news
Nils Jorgensen selected this image by Street Photographer Barry Delaney for the iN-PUBLiC Flickr Pool.

This image, taken at the 40ft swimming area in Dublin features nearly 50 young people, a scene that could have been incredibly chaotic has been made orderly and composed by the photographers camera. Within the busy scene there are gorgeous little dramas, interactions, details and moments. At the centre of the frame in a small space, a girl, hand on her chest, faces us opened mouthed. She creates a visual entry point and anchor for the mass of activity swirling around her. The composition allows for a series of boys silhouetted against the sky, one about to jump towards the calm sea and straight horizon where a distant ship passes. Our eye is doesn't know where to look first, so many expressions, gestures and relationships to enjoy, all beautifully spaced and presented. This expansive tableau demonstrates what great street photography can be, something for us all to to aspire too.
Follow Barry @thebaz_dublin
Join the iN-PUBLiC Flickr Group and add your best images to the pool for possible inclusion. Approved images will appear on our Flickr Gallery Page and our favourites will be featured here on our front page.
---